Forestry
460 acres of mature/semi mature mixed woodlands and shelter belts are managed in house by 2 foresters. The product is sold to local sawmills, fencing (creosoted stakes), furniture makers, the firewood market and supplies woodchip for the Estate community heating system.
Firewood is sold as cut hardwood logs, delivered by tractor and trailer(approx. 4.5 cu m.), within a five mile radius, to a well established customer base which has seen considerable growth in recent years.
A woodchip boiler community heating system was installed in 2013 supplying the Hall, the Estate Office, two cottages and the greenhouses. All timber is sourced on the Estate allowing for better management of the woodlands and big savings in heating costs and savings of oil.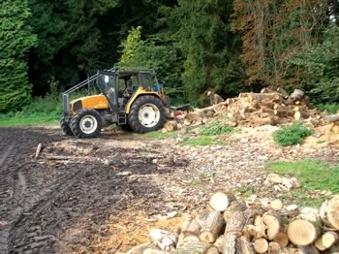 Long Service Awards
The Royal Forestry Society AGM was held at Houghton Hall on Thursday 27th September 2012 when Roy Clarke, pictured below wearing the glasses, received a Long Service Award for 51 years as forester on the Lexham estate and Peter Hooks received one for 40 years service as forester here. They were presented with the awards by the Chairman of the Society, Mr Nicholas Halsey.